"Parcours de femmes" - La femme authentique 
Date: 30 Sep 2021, 1:00pm - 2:00pm (GMT-05:00) Eastern Time (US & Canada)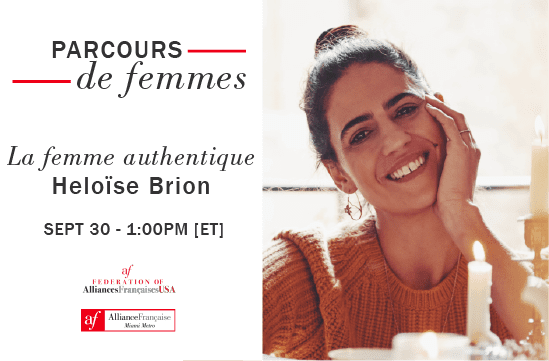 "Parcours de femmes" - La femme authentique | Héloïse Brion
Thursday Sept 30 - 1.00 PM [E.T]
ONLINE [Via zoom]
IN ENGLISH
Free event - Donate here: https://www.af-miami.org/products/af-donation-5/
Miss Maggie's Kitchen, a brand that blends cooking, travel, and lifestyle. On her website and social media accounts, Heloïse shares her finds at the local markets, recipes from her kitchen, table settings and much more. The mood is simple and authentic, combining her lived experience in France and the U.S. The charm of Miss Maggie's Kitchen is captured by her husband, photographer Christophe Roué. Heloïse is a frequent contributor to ELLE, ELLE à Table, Madame Figaro and Food52.

"PARCOURS DE FEMMES" is an original program offered by the Alliance Française Miami Metro since 2018, intended to inspire young adults. It features role models who have succeeded in careers that may have previously been reserved to men. The two most recent featured speakers were an Air Force army captain and a person with a career as a perfume "nose".
Sorry, you've missed the RSVP deadline for this event.