🌍 Join us on an unforgettable trip to Montpellier!

🇫🇷 Calling all members of Alliance Française Miami Metro!
We're thrilled to announce our collaboration with Alliance Française Montpellier to offer you an exclusive opportunity to immerse yourself in French language and culture.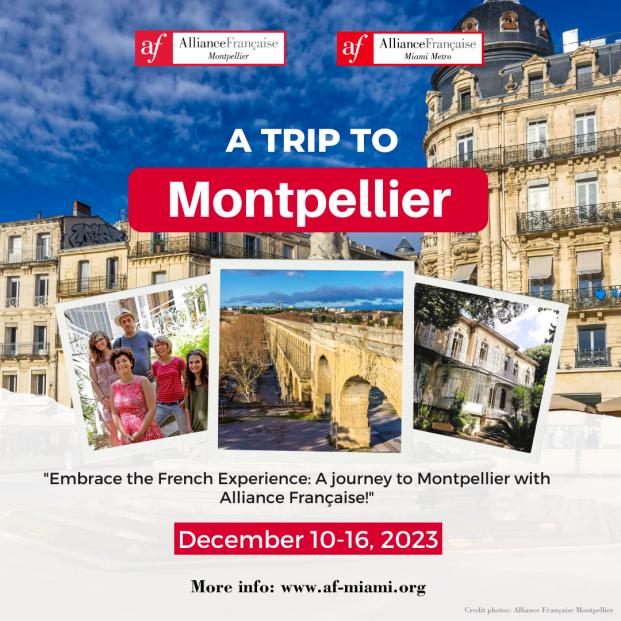 DESCRIPTION OF THE STAY
Arrival: Sunday, 12/10/2023 in the afternoon
Departure: Saturday, 12/16/2023 in the morning
Duration: 1 week
Number max of participants: 15
Program:

Intensive French Course: 20 lessons per week, 1 lesson = 45 minutes
From Monday, 12/11/2023 to Friday, 12/15/2023
• Communicative teaching approach. Practice of the language through interaction in everyday life situations.
• Emphasis on oral comprehension and expression.
• Contents and activities: systematic acquisition of vocabulary and language structures, use of documents from daily life and current events, systematic training in oral and written expression in communication situations.
• Alliance Française certification upon completion of the course.
Accommodation for students and accompanying
From Sunday, 12/10/2023 to Saturday morning, 12/16/2023
Option 1: Host family, single room, and half-board
• Through daily contact with French hosts, students will discover different aspects of French culture and life.
• We have a dedicated service that carefully selects accommodations. Each accommodation meets a quality standard.
• 1 or 2 students per family.
Option 2: 4-star serviced residence
• Fully furnished and comfortable apartments.
• Studios of 20-25m2 with kitchenette and private bathroom.
• Telephone, WiFi access, and air conditioning included.
• Relaxation and dining area with breakfast service (additional cost).
Cultural activities
• Monday, 11th December 2023: Guided tour of Montpellier and welcome reception (complimentary)
• Tuesday, 12th December 2023: Tourist excursion to Saint-Guilhem-le-Désert
• Wednesday, 13th December 2023: Wine tasting of local wines produced in Occitanie
• Thursday, 14th December 2023: Visit to the Fabre Museum of Montpellier
• Friday, 15th December 2023: Tourist excursion to Arles and visits to its monuments
Trip Prices:
Option 1: Stay with a local host family

Earlybird price: $890 (before june 30) - Regular price: $990
Option 2: 4-star serviced residence

Earlybird price: Price: $1280 (before june 30) - Regular price: $1380

Prices include:
Intensive French Course
Accommodation (Option 1 or 2)
Cultural Activities
Local transportation
Registration Fee with Alliance Française Montpellier

Airport or train station transfers (provided with host family accommodation)

Total price:
Option 1: Stay with a local host family

Option 2: 4-star serviced residence
Flights: Please note that flights to and from Montpellier, France are not included in the trip package. Participants are responsible for making their own travel arrangements and covering the associated costs. Our team can provide assistance and guidance regarding travel options if needed.
Travel Insurance:
Participants are required to have travel insurance that covers trip cancellation, medical emergencies, and personal belongings.

It is the responsibility of each participant to arrange and provide proof of valid travel insurance coverage.


About Montpellier:
REGISTRATION
Registration open until September 30
Earlybird price: register before June 30
To REGISTER, please follow the steps below:

1.Please read the terms & conditions thoroughly
1. Fill out the registration form below
3. Our coordinator will contact you to confirm dates, process payment and book your trip.


---
Powered by Oncord. Copyright Alliance Francaise Miami Metro 2023