Home
›
Products
›
Af-grands-chteaux-of-the-loire-and-ile-de-france-01-introduction-to-the-grands-chteaux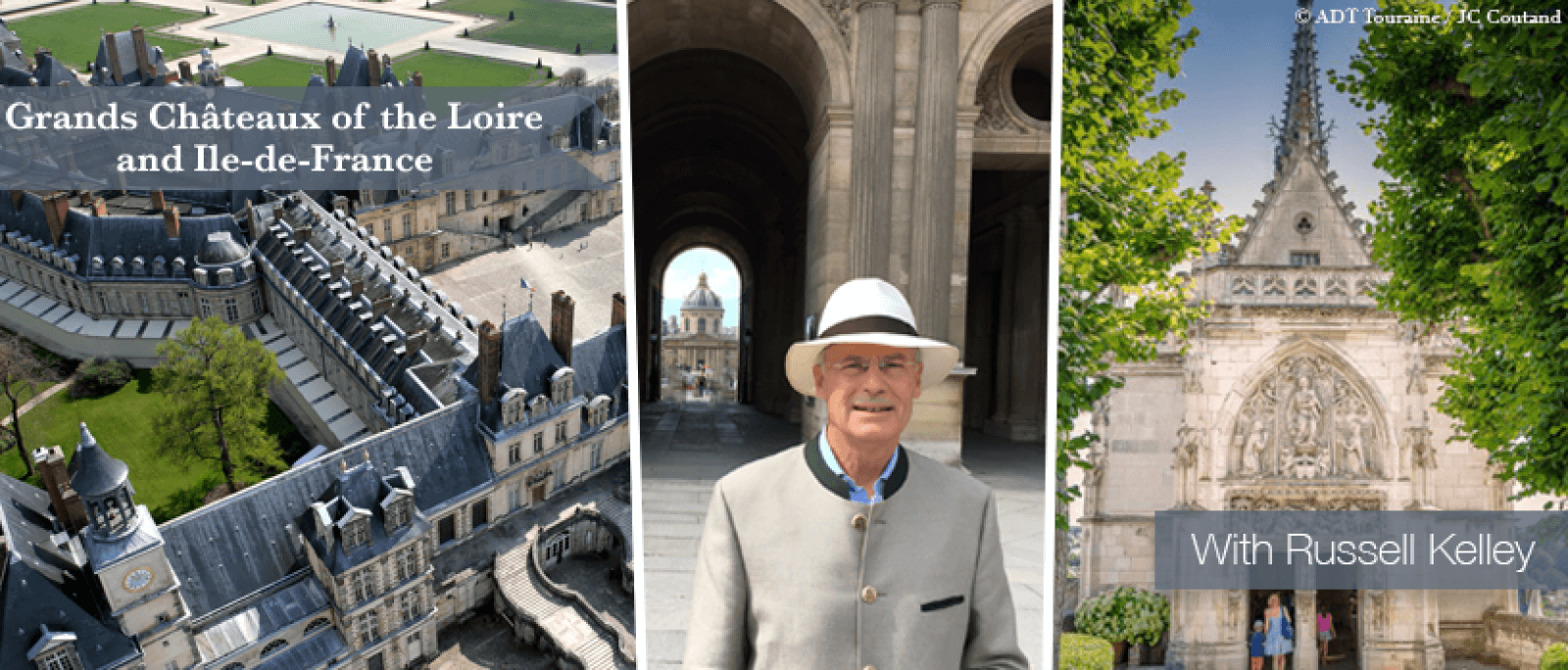 Grands Châteaux of the Loire and Ile-de-France: 01 Introduction to the Grands Châteaux
Description:
Introduction to the Grands Châteaux of the Loire and Ile-de-France
Thursday, January 14, 2021
1:00 p.m. (Miami), 12:00 p.m. (Chicago), and 7:00 p.m. (Paris)
$8 Members / $15 Non-members

Members of Alliance Française Miami Metro: Enter code "MERCIMIAMI" during checkout for a $7 discount.
$70 Members, series of 11 lectures / $135 Non-members, series of 11 lectures: Order your Series Ticket here
---
Yes, we are still spending most of our time at home and online this winter, but how about going out each week to visit one of ten Grands Châteaux from the famous Loire Valley and the area around Paris called the Ile-de-France?
Join us each Thursday between January 14 and March 25 at noon in Chicago and 1:00 p.m. in Miami when Russell Kelley meets the châtelain or châtelaine of such prestigious properties as Vaux-le-Vicomte or Chambord for a virtual tour and live transatlantic talk from France! Get started today when Russell gives us an introduction to this series by linking architecture with history, tracing the evolution of the French château from the earliest stone donjons and châteaux forts of the Middle Ages, through the magnificent Renaissance châteaux built by the Valois kings in the Loire Valley upon their return from the Italian Wars, and on to the châteaux de plaisance built by the Bourbon kings and queens and their court in and around Paris in the French Classical style.
A board member of the Alliance Française Miami Metro, Russell Kelley is the curator and moderator of the lecture series on the Grands Châteaux of the Loire and Île de France. He is author of The Making of Paris: The Story of How Paris Evolved from a Fishing Village into the World's Most Beautiful City, to be published by Globe Pequot Press in March 2021. He has lived in France for nearly 30 years and has visited every château featured in this series many times since his first visit to the Loire Valley 50 years ago.

---
Support and Save! Become a member of the Alliance Française Miami Metro for as little as $65 a year for an individual membership. Order your membership here. In fact, you can join the Alliance Française Miami Metro and purchase tickets for the entire Châteaux Series of 11 lectures for the same price as the series alone for non-members.
This program is presented in partnership with the Alliance Française Chicago with communication support from the Federation of Alliances Françaises USA, the French Heritage Society, and WICE - Paris.