Le paris Noir: Josephine Baker, from dancer to icon
Date: 23 Nov 2021, 1:00pm - 2:00pm (GMT-05:00) Eastern Time (US & Canada)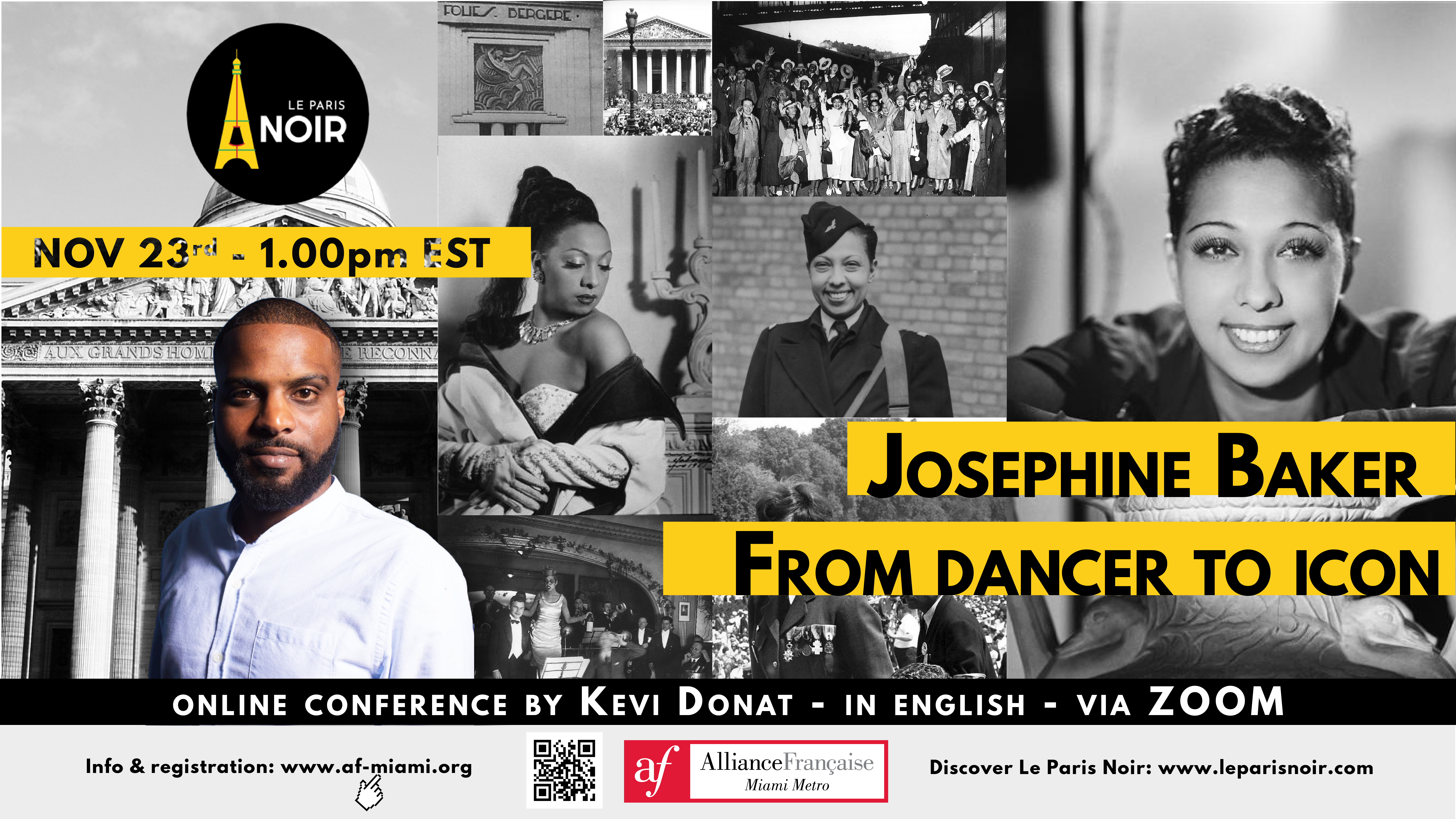 Le paris Noir: Josephine Baker, from dancer to icon
Online conference via Zoom | In ENGLISH
Free | Donation suggested
On November 30th 2021, Josephine Baker will enter the Pantheon monument. In this "Temple des grands hommes" (Temple of great men), she will take her place next to Voltaire, Victor Hugo, Aimé Césaire and Marie Curie. Through this event, we not only honor the Roaring Twenties and the Jazz movement, but also the civil rights movement and the Resistance to Nazi occupation. What is the significance of Josephine Baker entering the Pantheon as the first Black woman in today's France?
As he takes us along the streets of Paris from Rue Fontaine, the Folie Bergères to the Pantheon, Kévi Donat invites us to trace the journey of this exceptional woman. Follow the guide!
About Kevi Donat

Born and raised in Martinique, Kévi Donat is behind Le Paris Noir, a series of guided tours through the City of Light with a focus on Black culture.
Since 2013 he has been tracing the steps of icons such as James Baldwin, Frantz Fanon, Josephine Baker, and Cheikh Anta Diop. With a masters degree in political studies and inspired by the legacy of these great figures, Donat engages in conversations about identity and France's colonial past with both native Parisians and tourists. Donat also co-hosts the podcast Le Tchip. Since May 2021, Paris Noir collaborates with the Foundation for the remembrance of Slavery to create a series of podcast with a variety of experts.
More celebrations in Miami
In October and November, Miami will celebrate Joséphine Baker. Find here a series of events curated by The Consulate General of France with the support of local and international organizations and artists.


Please register below.
Zoom link will be provided after registration.
Sorry, you've missed the RSVP deadline for this event.