The Making of the French Garden: The Gardens of the Château de Valmer
Date: 27 Jan 2022, 1:00pm - 2:00pm (GMT-05:00) Eastern Time (US & Canada)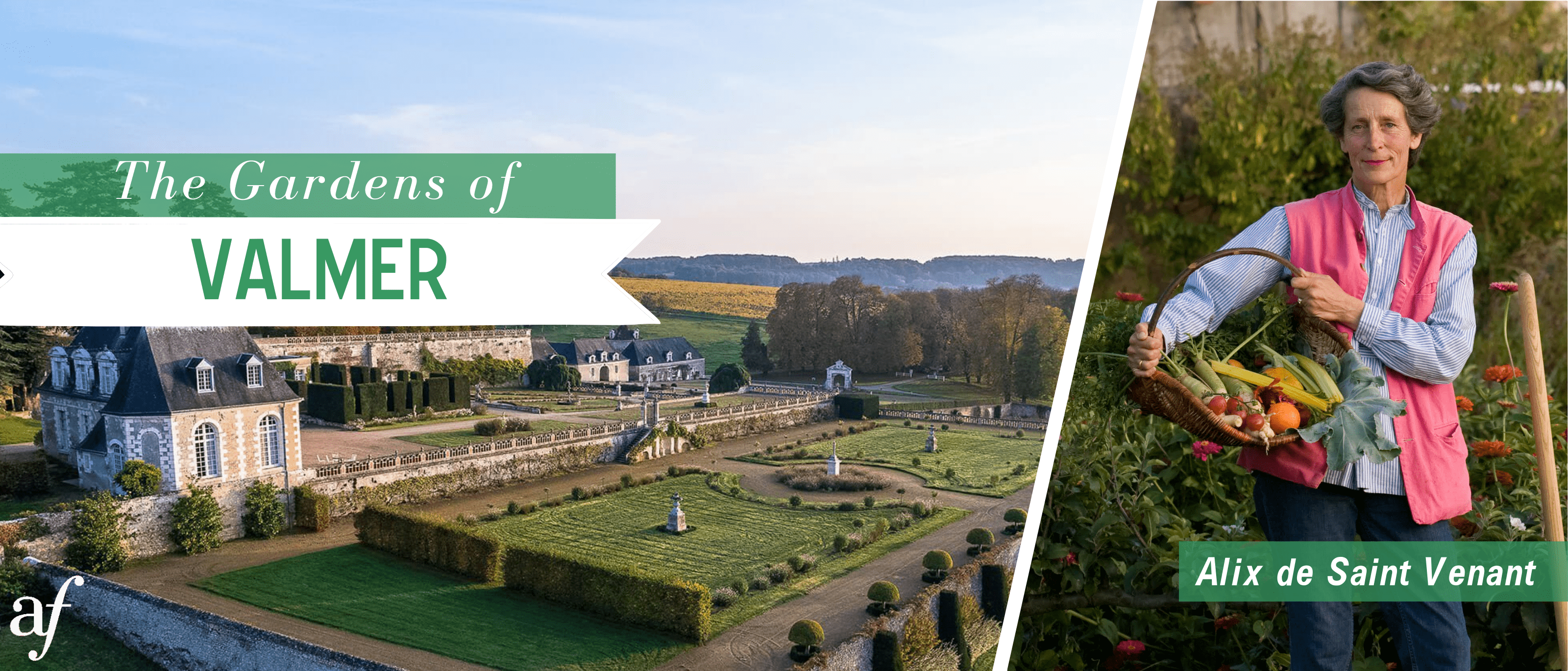 January 27 at 12 noon Chicago/1 pm Miami/19h Paris
The Making of the French Garden:
The Gardens of the Château de Valmer
ALL AUDIENCE: $20.00
AFMM MEMBERS: $10.00 [AUTOMATIC DISCOUNT APPLIES DURING CHECK-OUT]
Like its Loire Valley neighbor the Château de Villandry, the Château de Valmer dates back to the reign of François 1er. And like Villandry, the gardens at Valmer are laid out on a series of terraces that follow the slope of the hillside and end with the 2.5-acre/one-hectare ornamental kitchen garden (potager) that once fed 40 people and now grows edible plants and flowers to be enjoyed during the summer as well as vegetables to be preserved in tufa cellars during the winter. The château's moat has become a separate garden. The domain also produces some excellent Vouvray wines!
About our Speaker:
Alix de Saint Venant and her husband Aymar are the fourth generation of their family to own the Château de Valmer since 1888. Passionate about Valmer, Alix rediscovered the 17th century plan for the gardens, became a landscape gardener, and dedicated herself to the restoration of its Renaissance gardens. Alix is the co-author of Le Potager d'Alix de Saint Venant au château de Valmer (EPA, 2013). Finally, her son Jean is in charge of the 86-acre/35-hectare vineyard, taking over from his father and ensuring that the fifth generation will carry on the family tradition.


Support and Save! Become an Alliance Française member for as little as $65 a year for a membership and save on a pass for the series. Register only once and get your pass plus a weekly reminder emailed to you.

Series of 8 lectures (for members only) $70
GET YOUR PASS GET YOUR PASS
This program is presented in partnership with the Alliance Française Chicago with communication support from the Federation of Alliances Françaises USA. the French Heritage Society, the Historic Gardens Foundation, The Garden Conservancy and WICE
Sorry, you've missed the RSVP deadline for this event.