Le Ciné-club de l'Alliance - "My Donkey, My Lover & I"
Date: 15 Dec 2022, 6:00pm - 8:00pm (GMT-05:00) Eastern Time (US & Canada)

"My Donkey, My lover and I"
Antoinette dans les Cévennes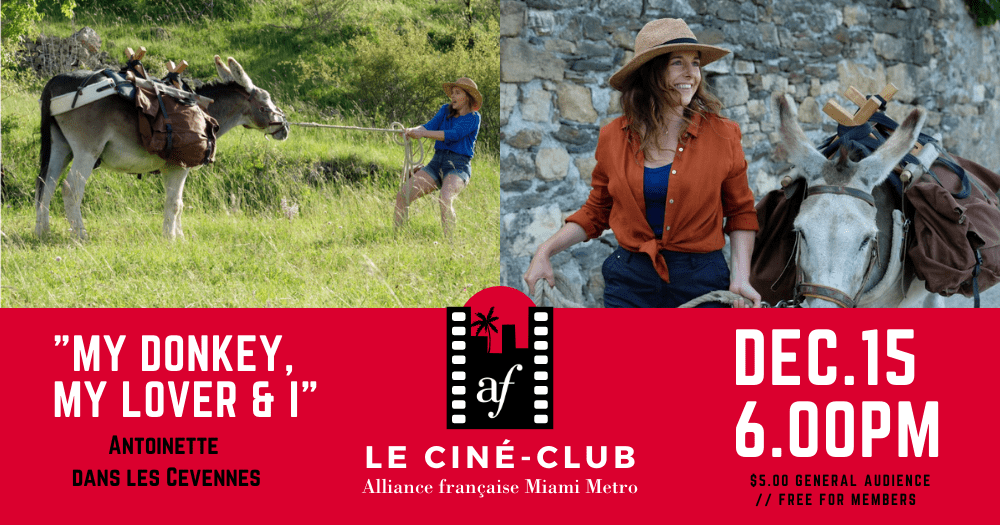 📅 Thursday December 15 | 6:00 P.M
📍 Alliance Française Miami Metro
Free for members & students [Apply during checkout]
$5.00 for general audience
In French with English subtitles


Antoinette, a Paris schoolteacher, is looking forward to her long-planned summer holidays with her secret lover Vladimir, the father of one of her pupils. But shortly before their planned departure, she learns that Vladimir cannot come because his wife has organized a surprise trekking holiday in the Cévennes National Park with their daughter and a donkey to carry their load. On an impulse, Antoinette decides to follow her married lover and his family on a six-day summer hike along the trail described by Robert Louis Stevenson in his outdoor classic Travels with a Donkey in the Cévennes. But Antoinette soon realizes this impromptu vacation is more than she bargained for: Vladimir is nowhere in sight, her romantic misadventure tickles all the gossips on the hiking circuit, and her traveling companion is a recalcitrant donkey called Patrick. Caroline Vignal's second feature delightfully reinvigorates the old French film trope of the lovelorn vacationer with a gentle comic touch, the occasional slapstick flourish, unblemished landscapes, and a star-making turn by Laure Calamy, long a magnetic supporting actress in films by leading directors like Alain Guiraudie and Justine Triet. With perfect timing, a hint of eccentricity, and a beguiling emotional openness, Calamy manages to find both the pain and the humor in the universal experience of being alone when you had something—or someone—else in mind. Special mention must be made of Patrick the donkey, who delivers a winning performance as the stoic beast of burden who proves to be Antoinette's occasional therapist and steadfast friend.

Movie Trailer
Sorry, you've missed the RSVP deadline for this event.