Home
›
Products
›
Af-the-making-of-the-french-garden-introduction-to-french-gardens-and-their-designers
The Making of the French Garden: Introduction to French Gardens and their Designers
Description: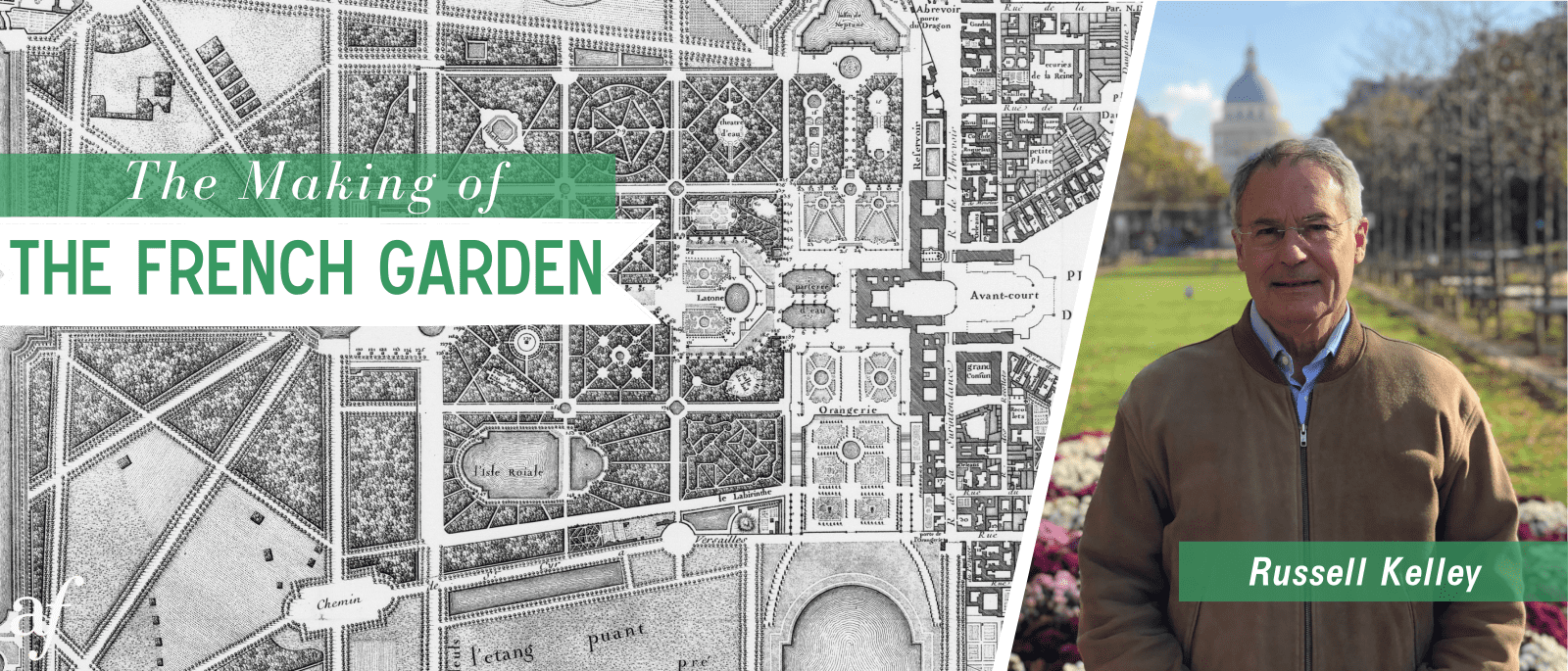 1:00 p.m. (Miami) • 12:00 p.m. (Chicago) • 7:00 p.m. (Paris)
The Making of the French Garden: Introduction to French Gardens and their Designers
ALL AUDIENCE: $20.00
AFMM MEMBERS: $10.00 [AUTOMATIC DISCOUNT APPLIES DURING CHECK-OUT]
Following the success of our Grands Châteaux Series last winter, Russell Kelley spent the summer visiting the Grands Jardins de France! Our curator extraordinaire returns with a live online series exploring the evolution of the French garden through history, from the Renaissance to the Vertical Garden. Get ready to travel through time and go green!
We start with an historical overview of the principal garden design styles that evolved in France over the past 500 years, with an introduction to the six iconic gardens featured in this series. Russell Kelley takes you from the enclosed gardens of the Middle Ages to the Renaissance gardens first designed in the Loire Valley by the Italian monk Pacello for the Valois kings in the 16th century; to the Classical gardens designed by André Le Nôtre for Louis XIV and his court in and around Paris; to the jardins à l'anglaise that reached their peak when Jean-Charles Adolphe Alphand and his master gardener Jean-Pierre Barillet Deschamps designed the parks, gardens and squares of Paris for Napoléon III, who so admired the parks and squares of London during his years in exile there; and finally to the revival of the jardins à la française thanks to the restoration work of father and son Henri and Achille Duchêne at the end of the 19th and beginning of the 20th century.
Russell Kelley is the curator and moderator of this lecture series and of last winter's series on the "Grands Châteaux of the Loire and Île de France." He has lived in Paris for 30 years and is the author of The Making of Paris: The Story of How Paris Evolved from a Fishing Village into the World's Most Beautiful City, (Lyons Press, 2021).
Support and Save! Become an Alliance Française member for as little as $65 a year for a membership and save on a pass for the series. Register only once and get your pass plus a weekly reminder emailed to you.

Series of 8 lectures (for members only) $70

GET YOUR PASS GET YOUR PASS
This program is presented in partnership with the Alliance Française Chicago with communication support from the Federation of Alliances Françaises USA. the French Heritage Society, the Historic Gardens Foundation, The Garden Conservancy and WICE