The Making of the French Garden: The Gardens of the Château de Versailles
Date: 10 Feb 2022, 1:00pm - 2:00pm (GMT-05:00) Eastern Time (US & Canada)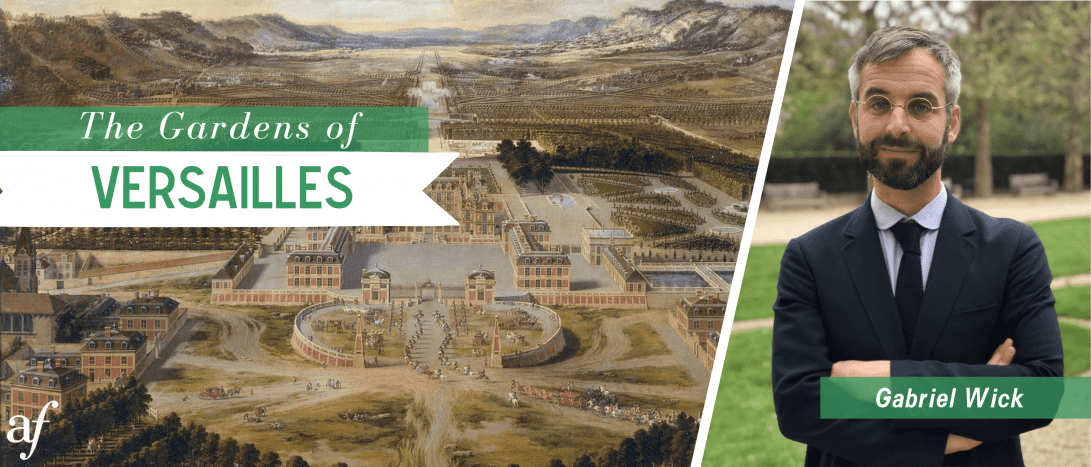 February 10 at 12 noon Chicago/1 pm Miami/19h Paris
The Making of the French Garden:
The Gardens of the Château de Versailles
ALL AUDIENCE: $20.00
AFMM MEMBERS: $10.00 [AUTOMATIC DISCOUNT APPLIES DURING CHECK-OUT]
Louis XIV built the Château de Versailles, 12 miles/20 km southwest of Paris, between 1664 and 1715. He employed André Le Nôtre as landscape architect, Louis Le Vau as architect (succeeded by Jules Hardouin-Mansart), and Charles Le Brun as decorator, all of whom had worked at Vaux-le-Vicomte for Nicolas Fouquet. Le Nôtre laid out the vast gardens in the Classical style, with their wide allées flanked by geometric flower beds, 17 groves, 50 fountains, and especially la Grande Perspective that leads due west from the Galerie des Glaces to the mile/1.6-km-long Grand Canal and beyond to the setting sun. The formal gardens of Versailles soon became the model for gardens throughout Europe. The scale of Versailles was awe-inspiring: By the time Louis died in 1715, the original gardens of 250 acres/100 hectares had expanded to more than 4,000 acres/1,600 hectares, while the Grand Parc covered some 15,000 acres/6,100 hectares, enclosed by a wall 26 miles/42 km long. (By comparison, the Boulevard Périphérique around Paris is 22 miles/35 km long.) The gardens and park now cover 2,000 acres/800 hectares.

About our speaker:
Gabriel Wick is a Paris-based landscape historian, writer and curator. He is an adjunct lecturer in architectural and urban history at the Paris campus of New York University. He received his doctorate in history from the University of London (QMUL) in 2017, and holds masters degrees in landscape architecture from UC Berkeley and historic landscape conservation from the National Architecture School of Versailles (ÉNSA – Versailles). He is the author of a number of books and scholarly articles on 18th French landscapes. He is currently consulting with the Foundation Chambrun on the conservation management plan of the Marquis de Lafayette's domain of La Grange-Bléneau.
Support and Save! Become an Alliance Française member for as little as $65 a year for a membership and save on a pass for the series. Register only once and get your pass plus a weekly reminder emailed to you.

Series of 8 lectures (for members only) $70
GET YOUR PASS GET YOUR PASS
This program is presented in partnership with the Alliance Française Chicago with communication support from the Federation of Alliances Françaises USA. the French Heritage Society, the Historic Gardens Foundation, The Garden Conservancy and WICE
Sorry, you've missed the RSVP deadline for this event.