Les Rendez-vous, Meet & Greet | A conversation with Ariane Michel & Dimitry Hlinka
Date: 25 Oct 2022, 6:00pm - 7:15pm (GMT-05:00) Eastern Time (US & Canada)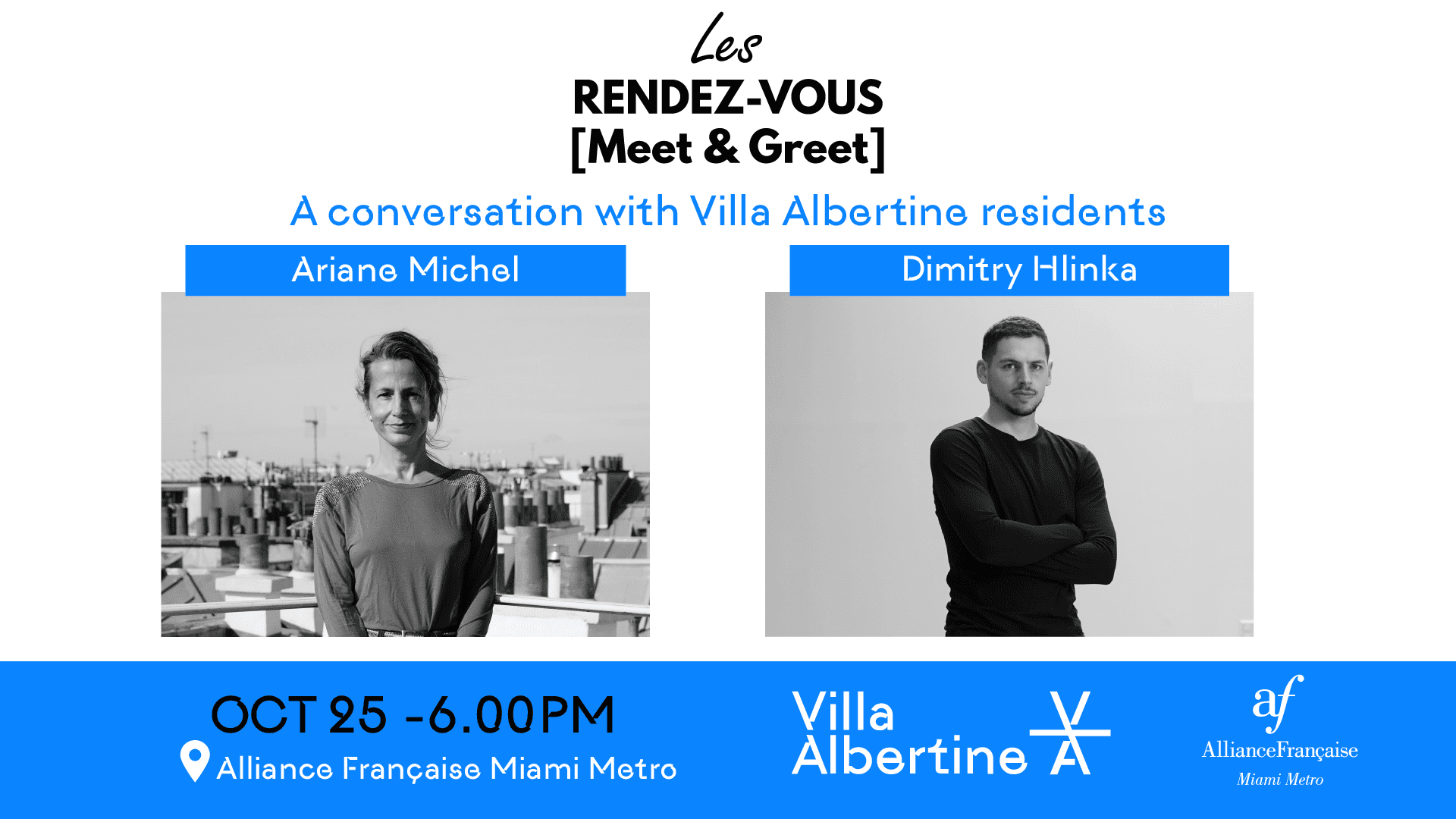 Tuesday, October 25, 2022, 6:00 PM
Hosted by Villa Albertine & Alliance Française Miami Metro
📍Alliance Française Miami Metro
Free | On RSVP
Join Ariane Michel, Plastic artist and filmmaker, and Dimitry Hlinka, Designer
for a discussion on their projects, vision and perspective along with Anthoni Dominguez, Director of Villa Albertine Miami.


About Ariane Michel:
"My films, installations, and performances challenge the way we perceive reality. I investigate non-human territories, such as animals, plants, minerals, and elements, with the help of cinematic tools, placing a particular emphasis on sound. By meddling with our ways of existing in the world, I seek to shake up the ranks and hierarchies between beings, implicating the spectator in newfound psychic geographies that consider all other living things. In doing so, I attempt to unravel our anthropocentric relationship to the world forged by European civilizations."
Ariane Michel is a plastic artist and a filmmaker. She has exhibited her work where life thrives in all its forms, such as in museums and art centers, movie theaters, streets, forests, underground corridors, places of worship, and seashores. Her work has been featured at FID Marseille, IFF Rotterdam, Locarno, Art Basel, Musée du Jeu de paume, Musée d'Art moderne de Paris, MoMA, La Criée centre d'art in Rennes, the Anthology Film Archives and in Bronx Park, but also on Place de la Concorde, in a Swiss forest or a window displays at Galeries Lafayette, in the gardens of Fondation Cartier, inside a church in Britanny, and at the Great Mosque in Paris on the occasion of the 2020 "Nuit Blanche.
©Ariane Michel
About Dimitry Hlinka:
Dimitry Hlinka studied cabinetmaking and marquetry, before receiving training in design. This remarkable path has helped him develop a fertile dialogue between craftsmanship and design through his deep understanding of techniques and materials. He has made himself known through calls for proposals, residency workshops, competitions, and exhibitions, in which his prototypes have stood out for their French spirit of innovation.
In 2015, he joined the Ateliers de Paris incubator and enjoyed support in creating his workshop, Atelier-Hlinka. Through several residencies, at Taiwan's NTCRI, in Kyoto (Japan) for the "Takumi Know-How" project, and in the French départment of Tarn for the stonework association Granit et pierres du Sidobre, he was able to develop a special focus on interactions between know-how, techniques, and fine materials. He has made use of this by responding to contemporary concerns, creating markedly singular objects he designs and makes himself.
The Bettencourt Schueller Foundation is supporting Dimitry Hlinka's residency, as sponsors of 'Design and Craft' Villa Albertine residencies. He and Nicolas Pinon were awarded the 2020 Prix pour l'intelligence de la main (Dialogues) of the Fondation Bettencourt Schueller—a prestigious award in craftsmanship.
http://www.atelier-hlinka.com/
©Dimitry Hlinka
About VIlla Albertine :
Reinventing artists' residencies, Villa Albertine is creating a network for arts and ideas spanning France and the United States. It offers tailor-made residencies for global creators, thinkers and cultural professionals. Explore our magazine, events, and programs for professionals.
Sorry, you've missed the RSVP deadline for this event.